Automated texting is the future. Not the spammy link blasts you may be familiar with, coupons from Bed Bath & Beyond and World Market, hair salon appointment confirmations and prescription refills, and let's not forget Joe Biden's bot-turned meme website (and the many other political campaign donation texts). Automated two-way texting is future. In this post, you'll learn exactly why automated texting is valuable asset to your marketing strategy, and how to acquire, qualify and follow up with customers over text.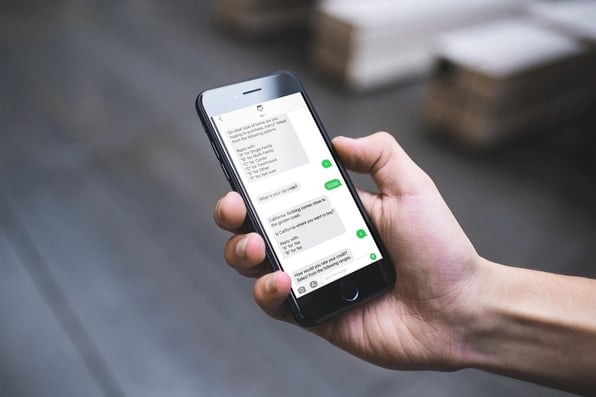 What is Automated Texting?
Automated texts are SMS messages that are triggered or scheduled to send on their own. You might be familiar with the most common type of automated texts, one-way SMS broadcasts or a call-to-action outside of the conversation (like a link or "call me back"). Your customers can't reply to these texts.
What is Automated Two-Way Texting?
Automated two-way texting (SMS robots) deliver value through a two-way text conversation, one the user can reply to. Automated text conversations can be more than notifications and coupons to your existing customers (which is what we commonly see today), or even less useful, just a link to your website — you could be qualifying new leads with automated two-way texting bots, too.
In the example below, you'll see the difference between the one-way automated texts you know — blasting notifications and links that you can't respond to, a missed opportunity by The Cereal School — and automated two-way texting, used for qualifying leads that's delivering value, a quote for credit card processing.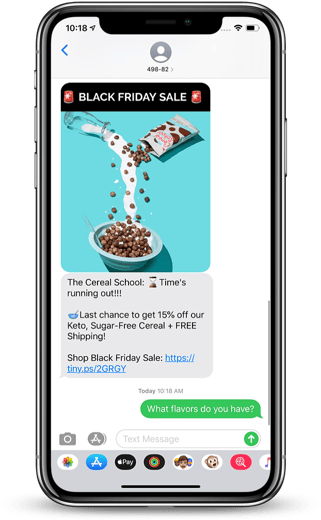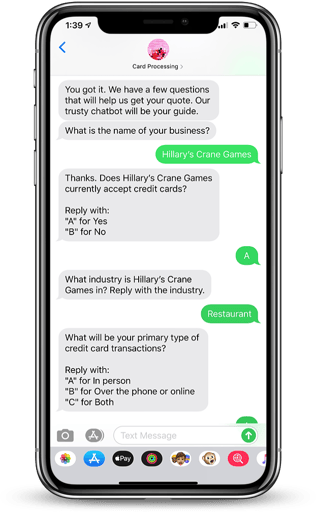 Why Is Automated Two-Way Texting So Valuable?
Customers love to text, and they want to text with businesses. These stats illustrate only a few of the impressive reasons why you should add SMS to your marketing strategy. Automated texting lets you take advantage of all of these benefits without being glued to your phone 24/7.

Enabling this channel for your business unlocks one of the most valuable things in your customer's daily life, their text message inbox. Automated texting robots aren't as popular as website and Facebook chatbots are (yet), perhaps because there are fewer self-serve providers that make it easy to implement an SMS bot quickly. This is an opportunity. Let's continue…
SMS bots vs Facebook and website chatbots
SMS is a persistent marketing channel. Think of properties that you "own" (your website) vs ones you don't (your Facebook page). SMS is a property that you own — your phone number. Unlike a website, SMS is a persistent channel. Non-persistent means when a lead leaves your website, even if they interacted with your website bot, they are gone, and you cannot engage them again. With persistent channels, a lead texts you, and they become a user that you can re-engage strategically at a later time. This makes SMS a double win: an owned property that's also persistent.
Another great thing about SMS is that everyone uses it. All carriers, all phones. Even non-smartphone users can text, so the reach is incredible. Don't forget about those incredible open rates I mentioned earlier, which are far greater than email or organic social media posts.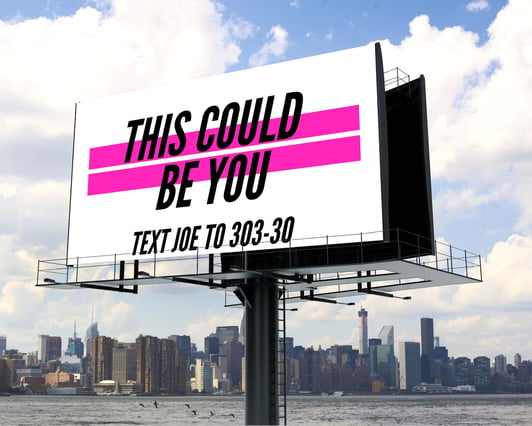 A new way to advertise
One of the most unique things about SMS chatbots is that it breathes new life into traditional media and digital advertising, and unlocks unlimited potential to drive organic traffic to your chatbot with all of the channels you are already on. Here are a few of the ways you can drive traffic to an SMS bot:
Use short codes (303–30) and keywords (JOE) on billboards, mailers radio and commercials. Finally give attribution and measure the performance of your traditional media.
Add a "Text" button to your Instagram bio. Adding a text-enabled phone number to your social media accounts will encourage more users to text you, and if you have a chatbot on the other end, you won't be glued to your text message inbox, either.
Add "Call OR Text Us" Anywhere your phone number appears. On your website, business cards, email signature, etc. It's simple to take advantage of any digital or traditional type of advertising, and engage in a text conversation with potential customers on channels you're already using.

The Strategy for Customer Acquisition
The strategy of customer acquisition is simple. You enable an automated texting robot (like Mav) on your phone number. Then, a potential client clicks on an ad (more about those later), or texts you from a button on your website, social media, business card, billboard, etc, and they're placed into a conversation with your bot. By the end of that conversation, your bot should collect the information you need to turn this lead into a customer.
Here's how the process works:
A lead initiates a conversation with your bot organically or through an ad
They answers a series of qualifying questions through an automated two-way conversation
The lead finds out quickly if they qualify for your services, right in the conversation
Once they become a qualified lead, you are notified to contact the lead and take the next steps
This formula is a quick and easy way to supercharge your acquisition efforts. Instead of spending your time asking the same qualifying questions over and over, your bot will automate the process. Think of it as a member of your team that takes the tasks of educating, qualifying and following up off of your plate.
Want to know even more about customer acquisition with automated texting? Check out this ebook we just released, Automating Lead Acquisition for Mortgage Lenders. It's a complete guide to automating your lead qualifying and follow ups, with more strategies and advertising ideas, and an easy way to get started.