Using Robotic Process Automation (RPA) to take manual, repetitive sales tasks off your plate can give you more than just extra time in your day. Let's explore how pairing internal RPA with automated texting can help sales teams fill their pipeline with qualified leads, nurture prospects and convert more leads.
You may be familiar with some of the common uses of automation in business. There are customer-facing, external automations: email automation (sending drip campaigns), basic profile-based targeting (ads and sales), and personalization with dynamic content (content marketing). There are also internal business process automations: employee onboarding, purchase order management and restructuring data, but all of this only scratches the surface of the possibilities of sales automation.
This post covers what automation is, why you should automate sales activities, and how two-way automated texting experiences can increase your conversions and bring more value to your business (and your life).
What is RPA?
To understand Robotic Process Automation (RPA) we must first understand where it comes from: Business Process Automation (BPA). BPA is "the technology-enabled automation of complex businesses processes." RPA is "an emerging form of BPA technology based on metaphorical software robots (bots) or artificial intelligence (AI) workers." In other words, RPA is like the sibling of BPA that uses robots. RPA could be thought of as a virtual worker that's trained to perform any of your repeatable and standardized work flows or tasks. One example of a repeatable work flow would be receiving an email, extracting the data and recording information in your CRM (what Hubspot does when you receive an email from one of your contacts).
The definition also includes RPA implementations paired with Artificial Intelligence (AI), commonly referred to as RPA/AI. That might include learning (using AI) your success rate of prospects and over time, creating an ideal qualifying criteria for prospects and automatically filtering those to the top of a list you. For the purpose of this blog post, we'll just refer to both of these types of tasks and work flows as "automation."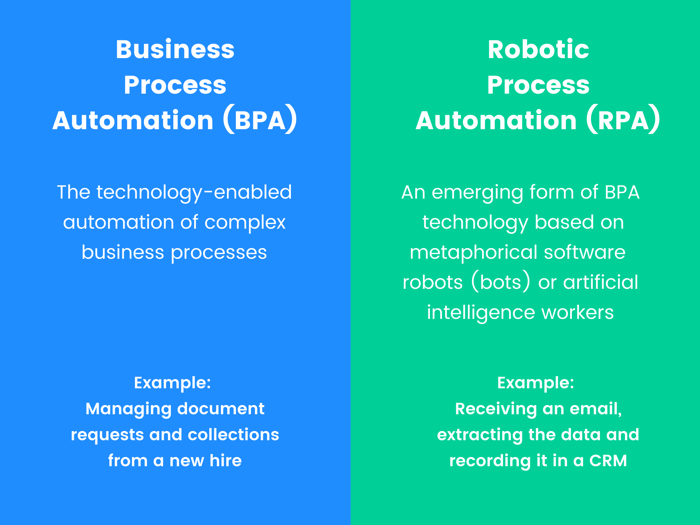 So what does this really mean? 🤔
To break it down simply, you're using technology to automate a repetitive task - like qualifying or following up with a sales lead.
Here's where we introduce something magical: Automated texting
Automated texts are SMS messages that are triggered or scheduled to send on their own, which is why they can easily pair with RPA & BPA. The most common kind of automated texting is a one-way alert (coupons, appointment reminders, confirmations, etc) where the business sends a message, typically containing a link or other CTA outside of the conversation, and the user cannot text back.
Two-way automated texting adds robot-to-human communication to your automated processes and workflows. By introducing an interface to those automations, like a text conversation, you create something that closer resembles a human process that interacts with your leads. The result would be a "virtual team member," aka a robot that acts on your behalf and can have text conversations with your prospects. Pretty cool right? Automated texting robots can simulate the process of human conversation, and automate your repetitive sales tasks, like qualifying and following up, using SMS text messaging.
As you can see, two-way automated texting is more purposeful and impactful for the business and the user than one-way. In this post, we are going to focus only on two-way automated texting.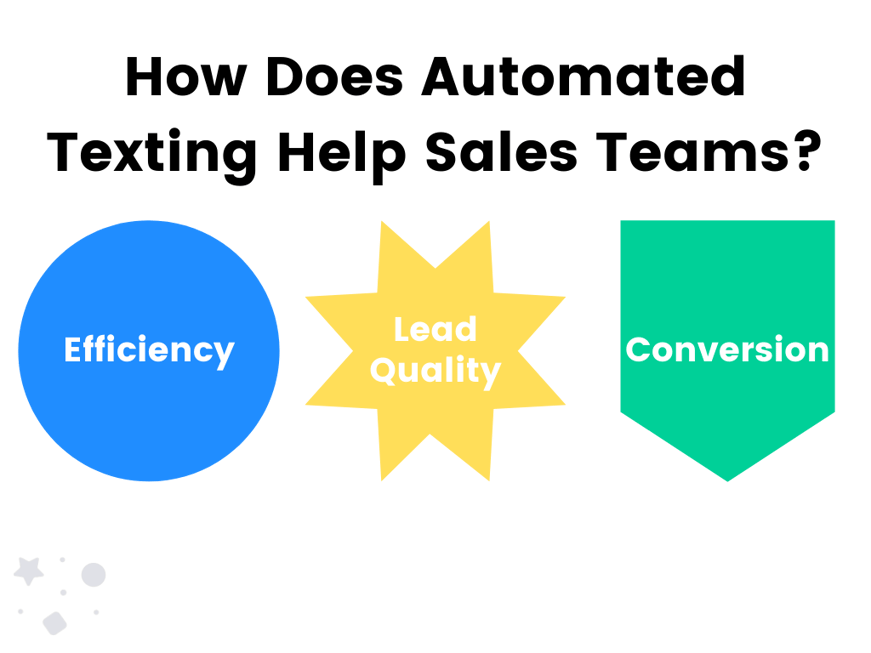 Why should sales teams use automated texting?
Businesses using automation to nurture prospects experience a 451% increase in qualified leads. So that's a really good reason to start. Stats aside, by automating these mundane, repetitive tasks with texting, it allows you to focus more on things humans actually enjoy doing - like creating partnerships, servicing your customers and growing the business in new ways. Since much of the sales process depends on speed, lead nurturing and good lead experience, automation gives you an edge. Automated texting is one of the best ways to incorporate automated workflows into your sales efforts, because it's not only is it fast, there are also numerous benefits of texting for your business (vs email, phone and social media).
The major ways automated texting can benefit your business fall into 3 categories:
Efficiency, Lead Quality and Conversions.
Improve Efficiency by taking repetitive, manual tasks like qualifying and following up with leads off your plate and turning them into automated, two-way text conversations.
Better Lead Quality when you use automated texting to ask qualifying questions and create a growing pipeline of qualified, ready leads that meet your criteria.
Convert More Leads by improving your prospect nurturing process and increasing open rates 20x when you replace voicemail follow ups with automated texting.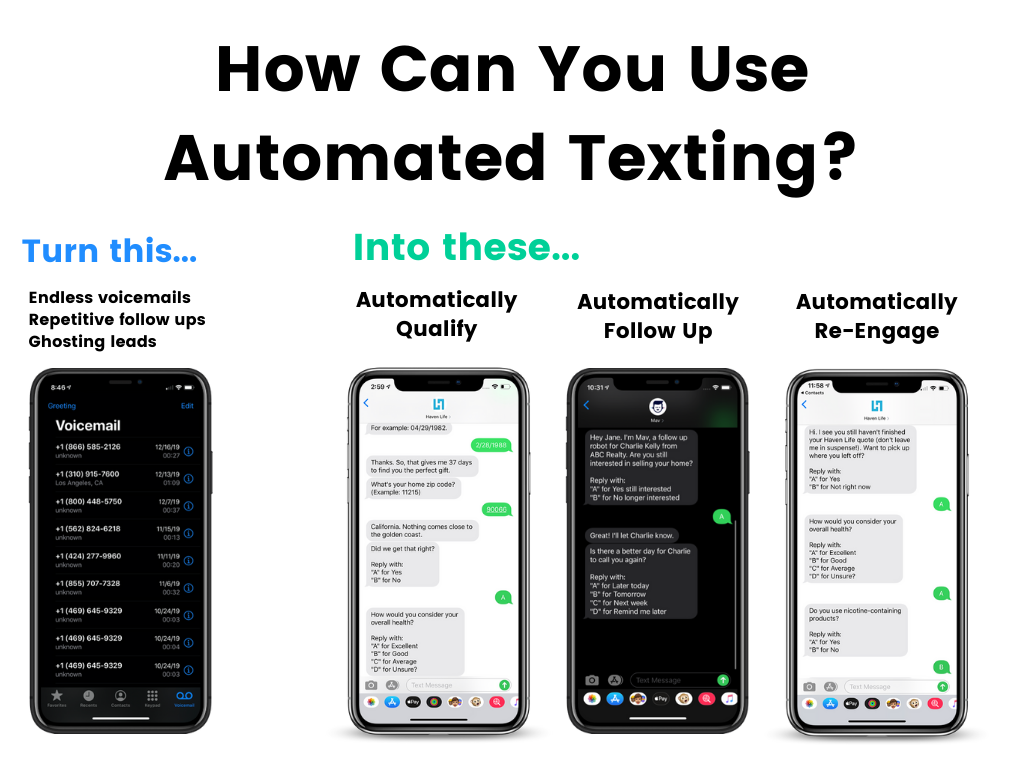 Why is automated texting better? It's smarter.
Automated texting takes all of the benefits of internal process automation and creates an external communication layer between your business and your customer. Plus, customers want to text, and they'll respond quickly (as fast as 90 seconds). It's important to interact with prospects the way that they want, it means more conversions, happier clients, and more referrals.
With automated texting, you can turn qualifying, quoting and following up with leads into automated, two-way text conversations. When you add this to your sales process you can:
Improve Your Pipeline of Qualified Leads

Imagine if you never had to spend time working unqualified leads again. 92% of teams say that their main goal with marketing automation is to improve their qualified lead pipeline. With automated texting, you can ask a prospect a series of qualifying questions in a conversation and determine if they meet your criteria. The leads find out quickly if they qualify, right in the conversation. If they qualify, you are notified to contact the lead and take next steps.

Convert Faster With Real Time Quotes

Using automated texting instead of a traditional, lengthy web form speeds up the quoting process for your prospects. They can answer questions quickly in a conversation, which makes the process much more enjoyable, and even fun. Not only can you keep them engaged, you are able to deliver incredible value by providing a quote in real-time when you integrate APIs with your texting robot. Once the lead is ready to take next steps, they've already made progress on the application, and since you've made the process so painless, you'll see higher conversions from leads to customers. See how our customer, digital life insurance agency Haven Life lowered their cost per lead and increase quotes-completed using a Messenger Bot.

Follow Up and Re-Engage Leads

Less than 5% of voicemails are responded to. That means you might have to leave 20 voicemails to follow up with your prospects before you get a response. Following up is so frustrating that 44% of sales reps give up after one follow up. Automated texting changes this. Automatically follow up using smart timing intervals, find out of a lead is still interested and schedule a better time to talk. Automatically re-engage a prospect when they drop off at any point during your conversation, remind them to continue and recall the conversation details.

This is also the key difference between automated texting robots and website chatbots. When a lead leaves your website, even if they interacted with your website bot, they are gone, and you cannot follow up with them in the same chat again.
Ready to start texting?
There's a 10x drop in lead qualification when you wait longer than 5 minutes to respond. Don't miss out on the opportunity to convert your traffic, and increase your response rate at the same time with automated texting.